Replacing a flat tire
Chock the tires.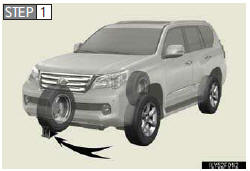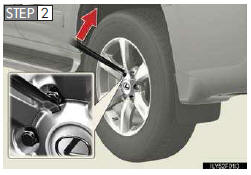 Pry off the wheel ornament, using the beveled end of the wheel orna- ment remover as shown.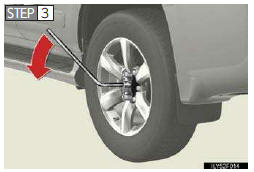 Slightly loosen the wheel nuts (one turn).

Assembling the jack handle.
Remove the jack handle, jack handle extension bar and jack han- dle bar from the tool box and assemble by following these steps.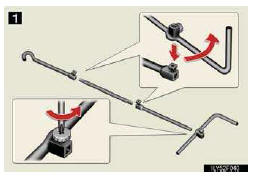 1. Loosen the bolt and the screw using either the jack handle end or a screwdriver.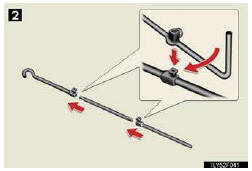 2. Assemble the jack handle extension bar and the jack han- dle bar and tighten the bolts.
Check that the bolts are firmly tightened.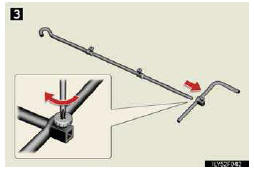 3. Assemble the jack handle extension bar and the jack han- dle and tighten the screw.
Check that the screw is firmly tight- ened.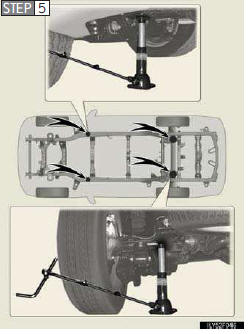 Position the jack at the jack points as shown.
Front - Under the chassis frame side rail
Rear - Under the rear axle housing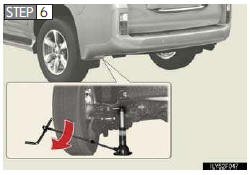 Raise the vehicle until the tire is slightly raised off the ground.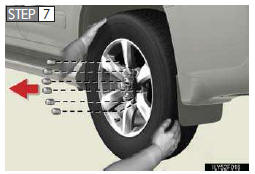 Remove all the wheel nuts and the tire.
When resting the tire on the ground, place the tire so that the wheel design faces up to avoid scratching the wheel surface.
See also:
Fuel Tank Cap
1 Pull the fuel filler door opener 2 Slowly remove the cap by turning it counterclockwise. ...
Fuel
...
If you lose your keys
New genuine Lexus keys can be made by your Lexus dealer, using the other keys and the key number stamped on your key number plate. If communication between the electronic key and vehicle is inter- ...