Light bulbs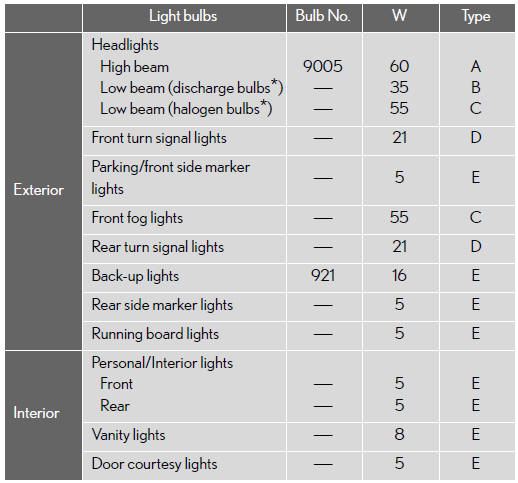 A: HB3 halogen bulbs
B: D4S discharge bulbs
C: H11 halogen bulbs
D: Wedge base bulb (amber)
E: Wedge base bulb (clear)
*: If equipped
See also:
Rear seats
Second seats (without third seats) Seatback angle adjustment lever Second seats (with third seats) 1. Seatback angle adjustment lever 2. Seat position adjustment lever Third seats (if equippe ...
Automatic door locking and unlocking systems
The following functions can be set or canceled: Setting and canceling the functions To switch between setting and canceling, follow the procedure below. Close all the doors and turn the "ENG ...
Orientation of the map
The orientation of the map can be changed from North−up to Heading−up by touching the orientation symbol at the top left of the screen. Touch or . North−up screen Headin ...