When the VSC/TRAC or Active TRAC/hill-start assist control systems are operating
If the vehicle is in danger of slip- ping or rolling backward when starting on an incline, or if any of the drive wheels spins, the slip indi- cator light flashes to indicate that the VSC/TRAC or Active TRAC/ hill-start assist control systems are operating.
A buzzer (intermittent) sounds to indicate that VSC is operating.
The stop lights and high mounted stoplight turn on when the hill-start assist control system is operating.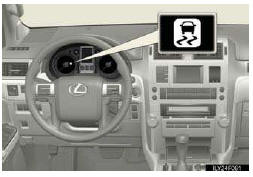 See also:
Introduction
NAVIGATION SYSTEM OWNER'S MANUAL This manual explains the operation of the Navigation System. Please read this manual carefully to ensure proper use. Keep this manual in your vehicle at all time ...
Bluetooth audio operation
The Bluetooth audio system enables users to enjoy music played on a portable player from the vehicle speaker via wireless communication. This audio system supports Bluetooth , a wireless data sys ...
XM Stocks
XM Stocks is a service included with an XM Satellite Radio subscription. This service is also available with an XM TravelLink subscription. With this ser- vice, you can receive updates via the na ...