When the VSC/TRAC or Active TRAC/hill-start assist control systems are operating
If the vehicle is in danger of slip- ping or rolling backward when starting on an incline, or if any of the drive wheels spins, the slip indi- cator light flashes to indicate that the VSC/TRAC or Active TRAC/ hill-start assist control systems are operating.
A buzzer (intermittent) sounds to indicate that VSC is operating.
The stop lights and high mounted stoplight turn on when the hill-start assist control system is operating.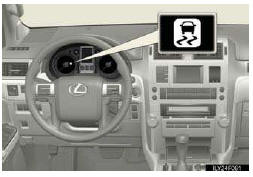 See also:
4-Wheel AHC (Active Height Control Suspension)
4-Wheel AHC adjusts the vehicle height in accordance with driving conditions. To select a height mode, shift the height select switch forward or backward. HI (high mode): For driving bumpy road ...
Driving the vehicle
The following procedures should be observed to ensure safe driving: Starting the engine Driving With the brake pedal depressed, shift the shift lever to D. Release the parking brake. Graduall ...
Turn Signal Lever
1 Left turn signal 2 Right turn signal 3 Lane change to the right (move the lever partway and then release it) The right hand signals will flash 3 times. 4 Lane change to the left (move the l ...