Tire size
- Typical tire size information
The illustration indicates typical tire size.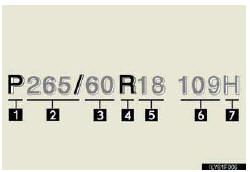 1.Tire use
(P = Passenger car, T = Temporary use)
2. Section width (millimeters)
3. Aspect ratio
(tire height to section width)
4. Tire construction code
(R = Radial, D = Diagonal)
5. Wheel diameter (inches)
6. Load index (2 digits or 3 digits)
7. Speed symbol
(alphabet with one letter)
- Tire dimensions
1. Section width
2. Tire height
3. Wheel diameter
See also:
Replacement parts
To ensure optimum performance and maintain the quality built into your vehicle's emission control systems, Lexus recommends the use of Genuine Lexus Parts when servicing or repairing the system ...
Bluetooth audio operation
The Bluetooth audio system enables users to enjoy music played on a portable player from the vehicle speaker via wireless communication. This audio system supports Bluetooth , a wireless data sys ...
Have the vehicle inspected by your Lexus dealer immediately.
A buzzer sounds and a warning message is shown on the multi-informa- tion display. Failure to investigate the cause of the following warnings may lead to the system operating abnormally and possib ...