Seat belts
Make sure that all occupants are wearing their seat belts before driving the vehicle.
- Correct use of the seat belts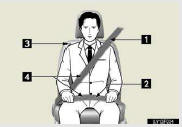 1. Extend the shoulder belt so that it comes fully over the shoulder, but does not come into contact with the neck or slide off the shoulder.
2. Position the lap belt as low as possible over the hips.
3. Adjust the position of the seatback. Sit up straight and well back in the seat.
4. Do not twist the seat belt.
Fastening and releasing the seat belt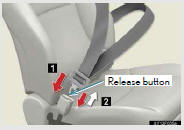 1. To fasten the seat belt, push the plate into the buckle until a click sound is heard.
2. To release the seat belt, press the release button.
Adjusting the seat belt shoulder anchor height (front and outer second seats)
1. Push the seat belt shoulder anchor down while pressing the release button.
2. Push the seat belt shoulder anchor up.
Move the height adjuster up and down as needed until you hear a click.
See also:
The Importance of Scheduled Maintenance
Regular maintenance is essential to obtaining the highest level of performance, safety and reliability from your Lexus. It can also enhance your vehicle's resale value. This section of the Warra ...
Stop the vehicle immediately.
A buzzer sounds and a warning message is shown on the multi-informa- tion display. The following warning indicates the possibility of damage to the vehicle that may lead to an accident. Immediatel ...
Map scale
Touch or to change the scale of the map display. The scale bar and indicator at the bottom of the screen indicates the map scale menu. The scale range is 150 feet (50 m) to 250 miles (400 km) ...