List of storage features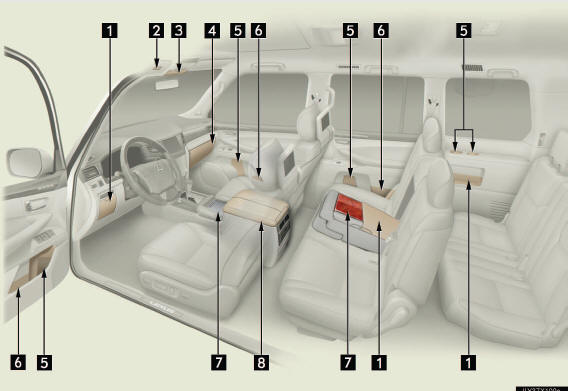 1 Auxiliary boxes
2 Card holder
3 Overhead console
4 Glove box
5 Bottle holders
6 Door pockets
7 Cup holders
8 Console box
Cool box
CAUTION
- Items that should not be left in the storage spaces
Do not leave glasses, lighters or spray cans in the storage spaces, as this may cause the following when cabin temperature becomes high: l Glasses may be deformed by heat or cracked if they come into contact with other stored items.
l Lighters or spray cans may explode. If they come into contact with other stored items, the lighter may catch fire or the spray can may release gas, causing a fire hazard.
See also:
Moon Roof
■Opening and closing 1 Open Stops just before it is opened fully. Press the switch again to fully open. 2 Close To stop partway, press the switch lightly. ■Tilt up and down 1 ...
Customization
Customizable features Your vehicle includes a variety of electronic features that can be personalized to suit your preferences. Programming of these preferences can be performed by your Lexus dea ...
Multi-informatiodisplay
The multi-information display presents the driver with a variety of driving-related data including the current outside air temperature. l Trip information Displays driving range, fuel consumption ...