Range covered by each camera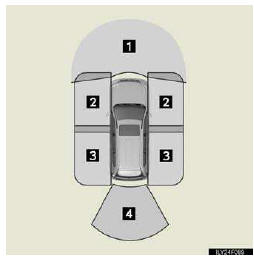 1. Front monitor
2. Side-front simultaneous display monitor
3. Side-rear simultaneous display monitor
4. Rear monitor
The illustration shown here is an example. As such, the actual visible area may be different. See P. 313 for information about the visual range of each camera.
See also:
Original equipment tire manufacturers
Dunlop Tires 11 44 East Market Street Akron, OH 44316 (800) 321-2136 Michelin North America One Park Way South P.O. Box 19001 Greenville, SC 29602 (800)847-3435 ...
Fuel information
Your vehicle must use only unleaded gasoline. Premium unleaded gasoline with an octane rating of 91 (Research Octane Number 96) or higher required for optimum engine perfor- mance. If 91 octane c ...
California Emission Control Warranty
Vehicles equipped with a California Certified Emission Control System that are registered and operated in California or any state that adopts California emission warranty provisions are covered by ...