Taking out the spare tire

Assembling the jack handle.
Remove the jack handle extension bar from the tool box and assemble by following these steps.
1. Loosen the bolt and the screw using either the jack handle end or a screwdriver.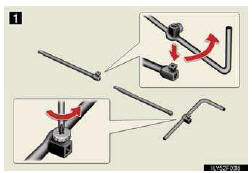 2.Assemble the jack handle extension bar and the jack han- dle and tighten the bolt and the screw.
Check that the bolt and screw are firmly tightened.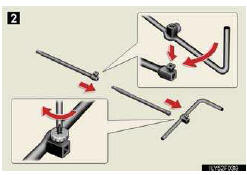 Remove the spare tire carrier lid using a flathead screwdriver.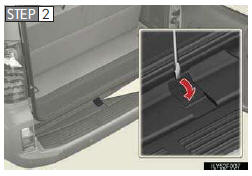 Insert the jack handle extension into the lowering socket.
1. Lower
2. Raise
Place a rag under the jack handle extension to protect the bumper.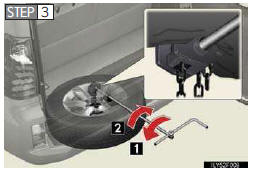 Lower the spare tire completely to the ground.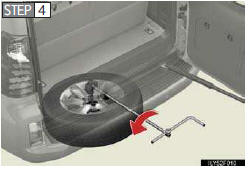 If the spare tire becomes caught on the suspension components, raise the tire, pull it towards the rear of the vehicle, and begin lowering it again.
Pull out the spare tire and remove the holding bracket.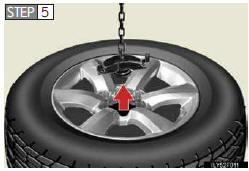 See also:
Limitations of the navigation system
This navigation system calculates the current vehicle position using satellite signals, various vehicle signals, map data, etc. However, the accurate position may not be shown depending on the sat ...
Keeping the Key Safe
Replacing a Smart Key may be costly. We advise you to keep a spare Smart Key and the key-number plate in a safe place. If you record the key number in more than one place, do not record it in a way ...
Unlocking and locking the back door
1.Locks the all doors 2. Unlocks the all doors The doors cannot be unlocked for 3 seconds after the doors are locked. ...